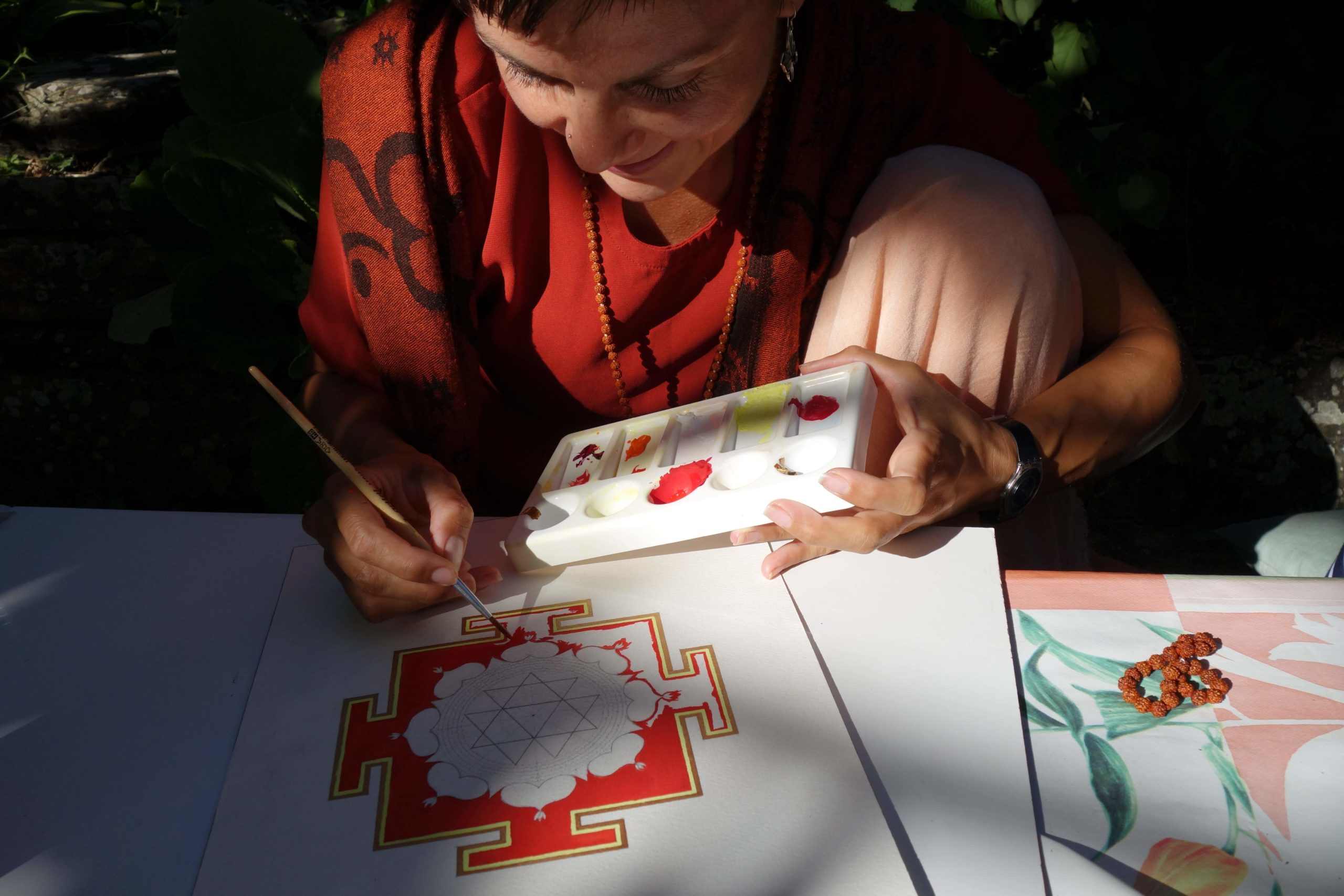 Durga Yantra, Mandala and Mantra Retreat
The retreat is led by
Antarshuddhi
(Nadeshda Stürzebecher), Vienna.
Join us for a week in the beautiful Tuscan countryside for an immersive week of nature, sounds and colours. Focusing on the interplay between yantra, mantra and mandala as sound, form and colour. Our sadhana will be a wonderful balance of yogic practices to deepen our self-exploration and reflection. Living, practising and creating together to nurture ourselves and express our creativity.

Durga Mantra, Mandala and Yantra
Yantra is a geometric image, which is known to be the manifested form of a deity. The drawing and painting of a yantra is practised together with its respective mantra, which is connected to that particular divinity. Mantra is the essential principle or energy and the yantra is the body. Yantras are powerful tools of meditation, which help us to focus, expand our awareness and activate our creative potential. Each symbol in a yantra resonates in our inner-outer space and is associated with the subtle aspects of human consciousness. Mandala is the pictorial representation of the microcosm and the macrocosm, which serves as a focal point to enclose and channel subtle energies.
Durga – the Protecting Power
Our theme will be Mother Nature – the Great Mother Goddess, Durga. She is associated with strength, motherhood, protection and prosperity. She is the unrivalled power of goodness and helps us to eliminate and neutralize all inner and outer negativities. Durga is the archetype of the all-powerful and fearless One, with the combined powers of all the divine beings, incorporating all the multiple forms and forces.
In this retreat, we will explore the creation of mandalas and combine them with the Durga yantra, along with the respective mantras connected to Durga. If you are new to painting, this is a fantastic opportunity to connect and explore your own creativity. Sacred geometry will be carefully explained and practised, as well as how to develop drawing and painting skills.
There will be plenty of time to allow you to go deeper into your practice and reconnect with Mother Nature on all levels in the beautiful sattvic atmosphere at Grempoli.
The Retreat Includes
A full and varied programme, from 7 am to 9 pm.
Daily 90 minutes asana, pranayama, and meditation class
Yoga nidra sessions
Karma yoga and periods of silence (mouna)
Daily mantra chanting practice
Drawing and painting of yantra as a practice and a sacred act
Exploring the use of colour and colour mixing in yantra painting
Development of your own sketchbook to explore these techniques
Evening sessions on the terrace, including kirtan and havan (fire ceremony)
No previous knowledge or experience of drawing and painting is necessary. A list of materials needed will be emailed after booking
Language: English
When:
The retreat will begin at 5pm sharp on Wednesday 27th July, it will conclude with lunch at 1pm on Wednesday 3rd August.
Please try and arrive by 3pm on the 27th to give yourself time to settle in. The programme will conclude with lunch at 1pm on the 3rd. Please make your arrival and departure to ensure that you do not miss any part of the programme.
Cost of Retreat:
€690 in double / €790 on single (Only 3 single rooms available)
The fee includes 7 nights, 3 healthy, organic meals per day, local collection and drop off from Scopeti, all tuition and classes.
To express your interest for the retreat, please, fill in our contact form or Grempoli's contact form.
For bookings, please fill in the form at Grempoli's website and Prem will send you the confirmation.