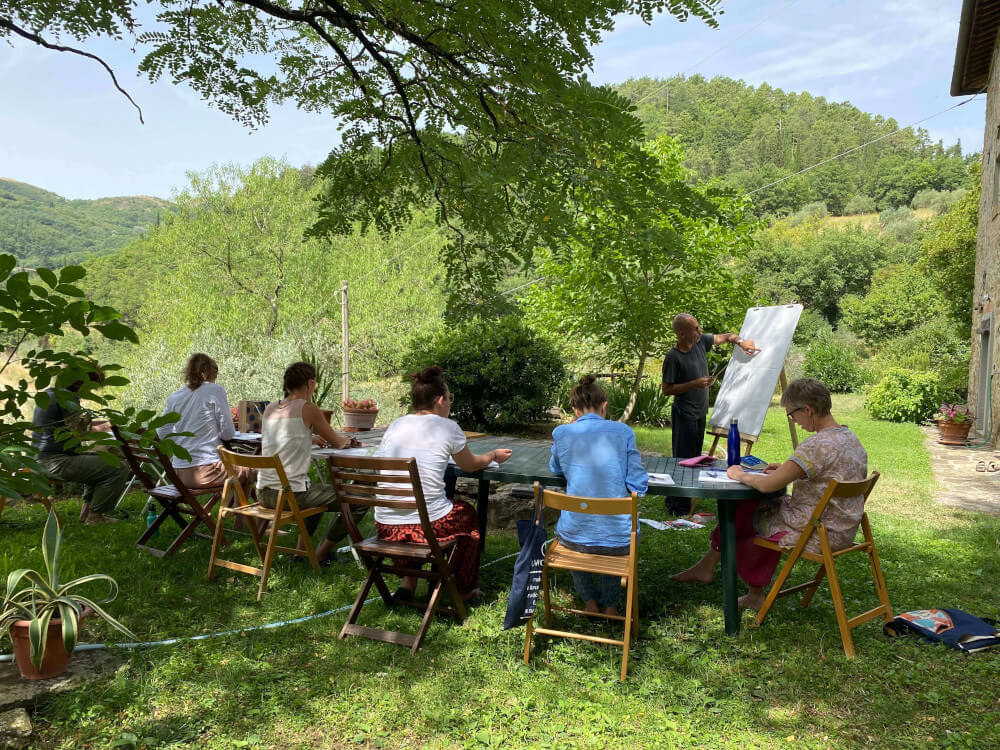 Vishnu and Laxmi Yantra and Mantra Retreat
The retreat is led by Antarshuddhi, Vienna and Brahmananda, London.
Join us for a week in the beautiful Tuscan nature – practising, creating, living and expressing together.
We will be focusing on the interplay between the male and female or the spiritual and metaphysical principles in the universe as expressed by mantra and yantra as sound, form and colour.
This week of sadhana will be integrated with other yoga practices for deepening of experience and reflection.
What are Yantra and Mantra
Yantra is a geometric image, which is said to be the manifested form of a mantra, a vibration. The drawing and painting of a yantra is practiced together with its respective mantra as a sadhana. Mantra is the essential principle or energy and the yantra is the body, the vehicle. Yantras are powerful tools of meditation, which help us to focus the mind, expand the awareness and activate our creative potential. Each symbol in a yantra, and vibration of a mantra resonates in deeper layers of human consciousness and can be used as tools of profound inner and outer transformation.
Vishnu and Laxmi – preservation and abundance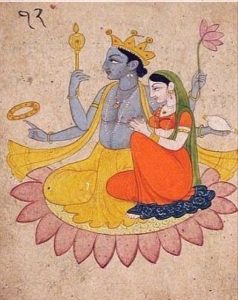 In the Indian mythology, Vishnu symbolizes infinite growth and preservation while his consort Laxmi symbolizes abundance and prosperity, both in the material and spiritual realm. These two principles are interdependent – the one cannot exist without the other. We as human beings can only discover the one through the other by aiming to connect truly with life gaining more balance and wisdom in order to rise above our limitations and grow spiritually, so that the spiritual reality can be reflected in the material.
During this retreat we will be exploring the Vishnu and Laxmi yantras, along with chanting their respective mantras, as well as supporting and deepening that process by exploring different yogic practices. We will dip our toes into the magical pool of sacred geometry, and discover through drawing and painting. If you are new to drawing and painting, it will be an opportunity to experiment and connect with your creativity.
This one full week retreat will offer plenty of time for drawing, painting, expression and silence, finding our balance in inner and outer life, amidst the abundance of Mother Nature in the beautiful atmosphere of Grempoli.
The Retreat Includes
A full and varied programme, from 7 am to 9 pm.
Daily 90 minutes asana, pranayama, and meditation class
Yoga nidra sessions
Karma yoga and periods of silence (mouna)
Daily mantra chanting practice
Drawing and painting of yantra as a practice and a sacred act
Exploring the use of colour and colour mixing in yantra painting
Development of your own sketchbook to explore these techniques
Evening sessions on the terrace, including kirtan and havan (fire ceremony)
A day off halfway through with local walk and picnic lunch.
No previous knowledge or experience of drawing and painting is necessary. A list of materials needed will be emailed after booking
Language: English
When:
The retreat will begin at 5pm sharp on Monday 17th July, it will conclude with lunch at 1pm on Monday 24th July.
Please try and arrive by 3pm on the 17th to give yourself time to settle in. The programme will conclude with lunch at 1pm on the 24rd. (You are more than welcome to come a day early) The programme will conclude with lunch at 1pm on the 3rd. Please arrange your arrival and departure to ensure that you do not miss any part of the programme.
Cost of Retreat:
EARLY BIRD until 31 May: €840 in double / €940 on single (Only 3 single rooms available)
After 31 Mai: €940 in double / €1.040 on single (Only 2 single rooms available)
Concession prices are available. Please contact us to discuss, especially if you are very keen on attending and have difficulty managing the full amount.

Please bear in mind, the fee includes 7 nights' accommodation in a beautiful single or double occupancy room with shared bathroom, 3 healthy, organic nutritious meals per day, local collection and drop off, all tuition and classes.
To express your interest for the retreat, please, fill in our contact form or Grempoli's contact form.
For bookings, please fill in the form at Grempoli's website and Prem will send you the confirmation.