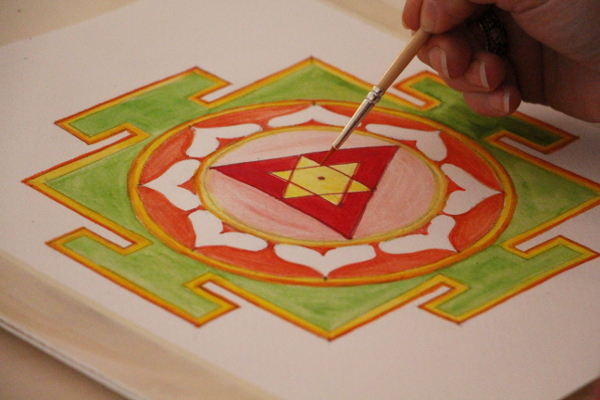 Ganesha Mantra und Yantra Retreat
We have a few free spots available.
The retreat is led by Antarshuddhi (Nadeshda Stürzebecher), Vienna and Brahmananda (Narendra Bharwaney), London. Mantra and Yantra are the tools of tantric practice. They represent sound and form, consciousness and energy. The combined use of these tools aims to focus the mind and to expand the awareness. The created symbol then becomes a vehicle through which we can deepen our understanding of the more subtle layers of the mind and personality and our relationship with the internal and external expression of these energies.
Ganesh – The Remover Of Obstacles
We will dedicate this week long retreat to the Mantras and Yantra of Ganesh, the well-loved elephant headed deity of the Indian tradition. He is worshiped as the remover of obstacles, the patron of arts and sciences and new beginnings. We will explore the symbols associated with his personal form as well as his abstract form through the practice of Mantra and Yantra.
Unique Content
The content of these retreats is unique and you will be guided through the different aspects of a process of self-exploration in which the daily practices are integrated in a holistic way. We will chant Mantras focused on Ganesh to build and focus the mental energies and to accompany the process of the drawing and painting of the Ganesh Yantra. These images can be drawn freehand but we will focus on a geometric construction using compass and straight edge, exploring the connections and parallels between cultures of what is sometimes called 'sacred geometry' and the archetypal ingredients of the Yantra, namely the square, the circle, the triangle and the lotus petals. We will explore 'philosophy in pictures' as we see how these symbols resonate in the consciousness and how we can then use the created image as a powerful tool of meditation.
The Retreat Includes
A full and varied programme, from 7 am to 9 pm.
Daily 90 minutes asana, pranayama, and meditation class
Yoga nidra sessions
Karma yoga and periods of silence (mouna)
Talks and discussions on Mantra and Yantra
Exploration of the cross-cultural significance of 'sacred geometry'
Daily Mantra chanting practice
Learning the use of sacred instruments of compass and straight edge
Drawing and painting of Yantra as a practice and a sacred act
Exploring the use of colour and colour mixing in Yantra painting
Development of your own sketchbook to explore these techniques
Evening sessions on the terrace including kirtan and havan (fire ceremony)
The Venue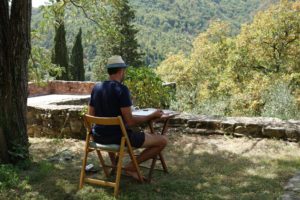 This one full week retreat will offer time to go deep into your practice and immerse yourself in the peace and vibrancy of the Grempoli (Tuscany) venue and enjoying three healthy organic vegetarian meals all largely sourced from the garden. Other diets can be catered for. We will practice karma yoga daily, live and eat together and have space for local walks and periods of silence and reflection. No previous knowledge or experience of drawing and painting is necessary but it would still be useful. Materials will be provided, but if you have your own, please bring them. Maximum number of participants: 15 Language: English.
Practicalities
Where: Nestled in the beautiful Tuscan countryside, Grempoli is 45 minutes from Florence airport, and 30 minutes from the center of Florence (easy bus ride from Pisa airport). Collection and drop off to local stations etc is included and will be arranged. When: The retreat will be held from Wensday 5th August, arrive by 3 pm to Wensday 12th August, departure after lunch at 1 pm. Please make your travel arrangements accordingly, so that you don't miss parts of the program.
Cost of retreat:
Early bird prices till 30th April 2020: Double 690/ Single 790/ Tent 590 (please bring your own tent) Full price after 30th April 2020: Double 760/ Single 870/ Tent 650 (please bring your own tent) Concession prices are available and payment in instalments is also possible. Please contact us to discuss, especially if you are very keen on attending and have difficulty managing the full amount. Please bear in mind, the fee includes 7 nights' accommodation in beautiful single or double occupancy room with shared bathroom, 3 healthy, organic nutritious meals per day, local collection and drop off, all tuition, classes and materials – up to 8 hours per day, a hiking day trip and the soothing company of chickens, good people and a lovely dog.
Prem is going to take care of your booking via Grempoli's website. SIGN UP HERE